Friends-Giving Recipes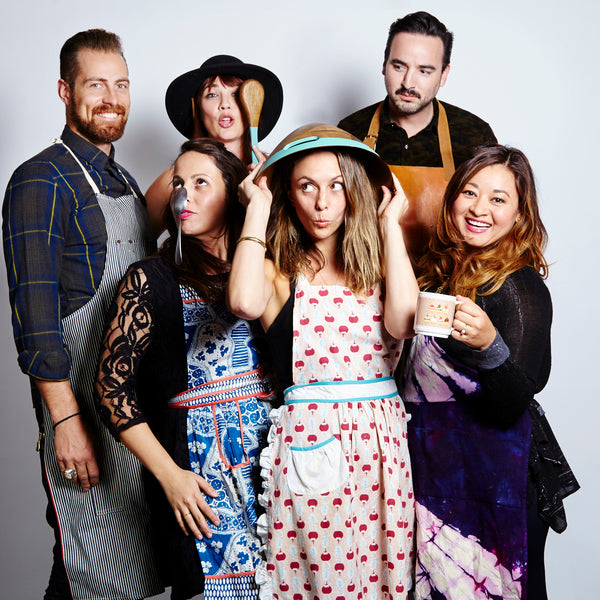 Whether you call it Thanks-Giving, Friends-Giving or even Thanks-Taking, at Bucks and Does we love any excuse to gather, eat and drink. There's a good amount of foodies on the team and exchanging new eats and recipes is a constant. So to commemorate the upcoming holiday, we thought it would be fun to share some of our favorite recipes. What's your favorite holiday recipe?
Jason (Owner)
My favorite aspects about Thanksgiving are that it's a special time to spend with family, and all the yummy smells wafting throughout the house. For me, it truly is a day to give thanks for all of the blessings I have. I LOVE this turkey recipe because it creates a perfect golden brown crispy outside and juicy middle. Since you have to baste it every 30 minutes, you get to stay close to the wine, while having conversation with family in the kitchen. Happy Thanksgiving!
Roast Turkey with Herb Butter
Ingredients
5 tablespoons butter, room temperature 
1 tablespoon each chopped fresh: rosemary, sage, and thyme 
Coarse salt and ground pepper 
1 whole turkey (about 12 pounds), thawed if frozen, rinsed and patted dry, neck reserved (set aside giblets for stuffing, if desired)
Directions
Preheat oven to 350 degrees with rack in the lowest position. Make herb butter: In a small bowl, mix together 4 tablespoons butter with chopped herbs; season generously with salt and pepper.

Prepare and stuff the turkey. Loosen skin: Working from the neck end, slide fingers under skin until you reach the end of the breast, being careful not to tear the skin; rub herb butter under the skin. Fill neck cavity: Place turkey breast side down. Fill neck cavity with stuffing; avoid packing. Close up by folding skin over and fastening with skewers or trussing needles. Tuck wings: Turn turkey over; bend wing tips underneath bird so they stay in place (you may have to break the bones). Loosely fill large cavity with stuffing. Tie legs: Using cotton kitchen twine, tie legs together securely (they will overlap) so bird retains its shape and moisture during cooking.

Set roasting rack in pan.

Lift turkey onto rack; rub with remaining tablespoon butter. Season generously with salt and pepper. Tent turkey loosely with foil. Roast 1 hour, then baste every 30 minutes with pan liquids, until an instant-read thermometer inserted into the thickest part of thigh (avoiding bone) registers 125 degrees, about 3 hours.

Remove foil; raise oven heat to 400 degrees. Continue roasting, basting occasionally, until thigh reaches 180 degrees, 45 to 60 minutes more. Tent with foil if bird browns too quickly; add more water if pan becomes dry. Transfer turkey to a serving platter; cover loosely with foil, and let it rest at least 30 minutes before carving.
Laura (Owner)
Thanksgiving is usually a holiday I host at my house.  Jason's family from Colorado often come during that time for a visit and it's the perfect opportunity to pull out all the stops with cooking.  Because I'm not a baker by any means, I really go all out with my dinner assortment.  An organic turkey stuffed with my grandma's rice stuffing is always the main accompanied by homemade cranberry sauce (it's actually very easy to make), sweet potato casserole, o gratin potatoes, green bean casserole and a delicious salad.  I love making an autumn inspired salad to start and have really come to love the below recipe.
Kale Salad with pecorino and walnuts
½ cup walnut haves or pieces
1 tablespoon white wine vinegar
¼ cup panko or slightly coarse homemade breadcrumbs (from a thin slice of hearty bread)
1 tiny clove garlic, minced or pressed
1 bunch Tuscan kale (also known as black or lacinato kale; this is the thinner, flatter leaf version), washed and patted dry
2 ounces pecorino cheese, grated or ground in a food processor, which makes it delightfully rubbly (1/2 cup total)
Freshly ground black pepper or red pepper flakes, to taste
Directions
Prepare Walnuts: Heat oven to 350. Toast walnuts on a baking sheet for 10 minutes, tossing once. Let cool and coarsely chop.

Prepare Raisins: In a small saucepan over low heat, simmer white wine vinegar, water and raisins for 5 minutes, until plump and soft. Set aside in liquid.

Prepare crumbs: Toast bread crumbs, garlic and 2 teaspoons of the olive oil in a skillet together with a pinch of salt until golden. Set aside.

Prepare Kale: Trim heavy stems off kale and remove ribs by tearing the leaves off with your fingers. Stack sections of leaves and roll them into a tube, then cut them into very thin ribbons crosswise.

Assemble Salad: Put kale in a large bowl. Add pecorino, walnuts and raisins (leave any leftover vinegar mixture in dish), remaining 2 tablespoons olive oil and lemon juice and toss until all the kale ribbons are coated. Taste and adjust seasonings with salt, pepper and some of the reserved vinegar mixture from the raisins, if needed. Let sit for 10 minutes before serving. Just before serving, toss with breadcrumbs and a final 1 teaspoon drizzle of olive oil.
Damien (Manager)
Thanksgiving is full of comfort food and my biggest food hug on the big day has always been my Mom's Green Bean Casserole. Yes, it's one of the simplest recipes with the easiest prep and yes the ingredients come from cans but it all brings me back to being a kid reminding me how important family is and how lucky I am to enjoy such a special dinner with the family I hold so dear to my heart. Preheat your oven and get your can openers cranking and enjoy! 
Green Bean Casserole
Ingredients
1 Canned French Cut Green Beans 
1 Canned French Fried Onions 
1 Can of Cream of Mushroom Soup 
3 TBS Soy Sauce (to taste) 
Pepper - To taste
Directions
Preheat oven 350 degrees 

In a large bowl mix: 

Canned Green Beans 

Can of Cream of Mushroom Soup 

1/2 The can of French Freid Oninons 

3 TBS Soy Sauce 

Pepper to taste 

Pour the mixture into a casserole pan and bake for about 25 minutes. 

Remove from oven and sprinkle the remaining French Fried Onions and bake for another 5 minutes. 

Let cool for 10 minutes and serve.
Jen (Merchandiser)
I love food.  I love to cook lots of it for lots of folks (or just a special few) and Thanksgiving is the perfect excuse.  Being southern, dressing is a pretty important part of the meal, and being southern, the dressing has to be cornbread.  I love this recipe because it's a nod to my Texas roots, because there's a good chance I already have everything I need in my pantry, and because it can easily be altered to suit your meal and your taste.  
Cornbread & Kale Stuffing
Ingredients
2 large onions, chopped (about 4 cups)
4 ribs celery, chopped 
8 tablespoons unsalted butter (salted butter will do, too)
1 large bunch lacinato kale (or any green), stems discarded and leaves rinsed and well chopped.   
1 tablespoon crumbled dried sage
about 4 cups cornbread, crumbled
1/4 cup chopped pecans or walnuts **optional**
salt & pepper 
veggie stock
Directions
Preheat oven to 350 degrees. 
In a large skillet cook the onions and celery with a little salt and pepper in butter over moderately low heat, stirring occasionally, until veggies are softened and onion is becoming translucent. 
Add kale in batches, stirring until each batch is wilted, and cook the mixture until the kale is bright green. 
In a bowl combine the mixture with the cornbread, stir in the sage and salt and pepper to taste.  Toss gently until combined well.  Add veggie stock if it seems a bit dry. 
Here is the part where you can improvise... add some nuts, add some oysters, add some cranberries or currants if you want! 
Throw it in a baking dish and bake until browned and the corners get crispy, about an hour to an hour and a half.  If the top starts to get too dark you can cover it with some foil.
Sandra (Customer Service)
My favorite recipe to make for Thanksgiving is my husband's favorite dessert: Pecan Pie. It's so decadent and delicious that it would be almost sinful to make it on any other day of the year. The first year I made it I forgot to prep the pan with butter and flour so the pie got stuck and we had to spoon the crumbs onto our plates. If you do make this recipe, please don't forget to prep your pan and have all your ingredients handy. Enjoy!
Best Ever Bourbon Pecan Pie
Ingredients
2 ½ oz. melted butter
4 eggs
¾ cup sugar
½ tsp salt
1 cup plus 2 Tbs dark corn syrup
1 ½ to 2 cups pecan halves
2 tablespoons good-quality bourbon
1 (9-inch) deep-dish pie shell, unbaked
Directions
Preheat oven to 425. Place pie dough into pie dish, poking holes in it to allow for ventilation. We used a pre-made pie. Place a piece of parchment paper over your pie crust and fill the bottom with un-cooked beans. Any variety will work. Par-bake your crust for 10 minutes. Remove and let cool.
Reduce oven heat to 300.
Once your pie crust has cooled, put pecans in the bottom of the pie shell.
Melt butter and set aside to cool.
Mix remaining ingredients in a bowl until well combined and add the cooled melted butter. If your butter is too hot, it will scramble the eggs.
Pour over the pecans in the pie shell and bake at 300°F until puffy around the edges and set, about 45-60 minutes until or your filling is set. If your top becomes too dark before pie is set, cover with aluminum foil and keep baking.
Espie (Creative Developer)
Cooking has actually been a very daunting thing for me, and it wasn't until I recently got married that I started rising to the challenge. So it's not surprising that my favorite recipe is SUPER easy…no really, a child can do it! Years ago my sister-in-law introduced me to the world of "Cheesy Potatoes" for Thanksgiving, and I've been hooked since. I promise, if cooking is not your forte, this recipe will still make you look like Julia Child's at your next gathering.
Cheesy Potato Casserole
Ingredients
(10.5 oz.) condensed cream of chicken soup
2 cups Sour cream
1 teaspoon Salt
1/4 teaspoon Ground black pepper
2 cups Shredded cheddar cheese
1/3 cup Sliced green onions
1 package (30 oz.) Ore-Ida Shredded Hash Brown Potatoes
2 cups Crushed corn flake cereal
1/4 cup Butter, melted
Directions
Preheat oven to 350°F. Coat 13x9 baking dish with nonstick cooking spray.

In a large bowl, whisk together soup, sour cream, salt and pepper. Stir in cheese, onion and hashbrowns until well mixed. Spoon evenly into baking dish.

In a medium bowl, mix together cereal and butter. Sprinkle evenly on top of hash brown mixture.

Bake uncovered for 45 to 50 minutes, or until hot and bubbly. Allow to rest for 5 minutes before serving. Season with additional salt and pepper to taste if desired. Garnish with additional sliced green onion if desired.
Leave a comment
Comments will be approved before showing up.