Designer Spotlight: Nudie Jeans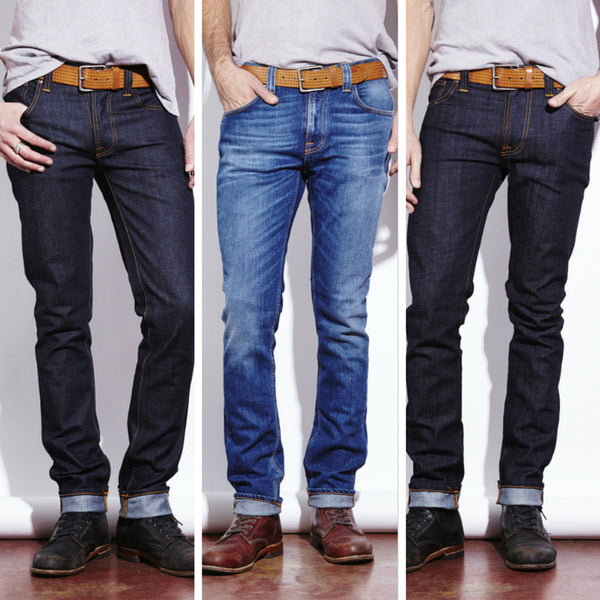 Anyone who knows us, our store, or our site, has probably figured out by now that
we love jeans
! So we're always on the lookout for the best jeans labels, and we get really excited when we find one. Our recent obsession has been with Nudie Jeans, who are the worthy recipients of our Designer Spotlight.
As was the case with so many of us, jeans epitomized cool for Nudie Jeans founder and creative director, Maria Erixon. When she and her partner founded Nudie Jeans in Sweden, they wanted to create the sort of designs that they couldn't find in the narrow Nordic jeans market.
Today,
Nudie Jeans
is a worldwide operation. Not only are they available worldwide, but their products are the result of international creative cross-pollination. Take their latest offering, their limited edition 18 oz. selvage denim. Erixon says that she fell in love with the heavy-duty denim when she first saw it at Kaihara Mills in Japan, and 1,000 pieces of the finished product are finally available.
The Steady Eddie Dry Heavy Japan Selvage line, as they're called, are a perfect example of what makes Nudie Jeans so easy to be excited about. These pieces aren't just attractive and durable. The hard work that went into turning heavy Japanese denim into gorgeous jeans is an obvious labor of love. Nudie Jeans brings the discerning eye of a curator to every line. They're jeans made by people who clearly love making the highest-quality jeans.
Though their jeans are out-of-this-world, Nudie Jeans also has a wide variety of clothing. They bring their knowledge of the best denim and leather to jackets and coats, too. They also have shirts, tees, and accessories. For an idea of what Nudie Jeans can do beyond just denim and trousers, check out their
Howard Duffel Double Face Coat
.
For the conscious consumers who want to know where their clothes come from, Nudie Jeans has one of the most comprehensive guides we've found online. On their site, just check out the "production guide" tab. It'll take you to an interactive map, which you can click according to item, breaking down what exactly goes into making their clothing. If you're curious about their jeans, you can see how the raw denim made its way from Tunisia and ended up getting assembled and stitched together in Italy. It's not only an extraordinarily well-designed guide, but a sign of the highest confidence in their stellar craftsmanship. And if anything happens to your Nudie Jeans, they offer free repairs at their stores throughout Europe, Australia, and Japan.
Spend some time checking out the Nudie Jeans website and you'll see why we're so excited about this label. Or better yet, come on in and check out the wares in person. We carry Nudie Jeans at
Bucks & Does
, and are proud to feature the label as part of our Designer Spotlight series.
Leave a comment
Comments will be approved before showing up.