Paul Newman: The Original Rugged Gentlemen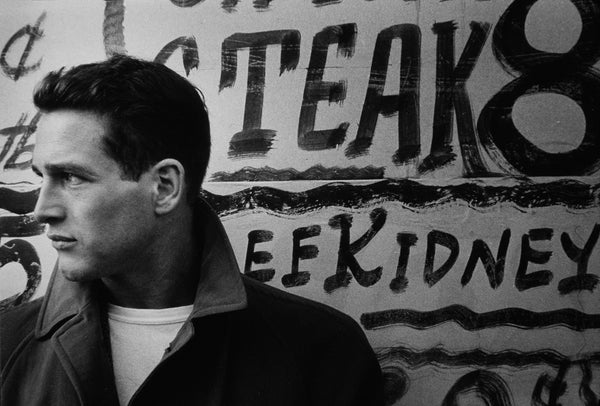 When it comes to style, we're like most people: we probably got our earliest inspiration from the coolest and best-dressed actors and actresses we saw in movies as kids.
It's a little bit unfair to the legacy of Hud, Butch Cassidy, and Cool Hand Luke that starting in the '90s, Paul Newman started being known best as the salad dressing guy. Even though, to be fair, his Newman's Own line was doing organic before it was cool, and the proceeds went to charity. But before he was a sauce-based humanitarian, he was one of the best looking guys in Hollywood, and we think there's a lot to be learned from Newman today.
Newman's career took him all sorts of places—pool halls, prisons, towering infernos, the future—but it makes sense to start in the Old West. One thing that's clear from watching classic Newman Westerns is that he has captured a definitive vision of classic Americana.
It's no surprise that we love jeans, and Paul built a perfect look out of a great pair of jeans and a simple collared shirt with cowboy-inspired accents. All he needed was a good fit, a masculine accent like a belt-buckle, and his hat cocked back just slightly. The result was a flawlessly cool look that looks great even in black and white.
A few years later, he could take the same look and add a corduroy jacket, and the result would be something appropriate for both the best-dressed professor on campus or an outlaw on the run. Not even all that dirt can cramp his style. By building off the same classic look and adding a skinny tie and a sharp, tailored sport coat, he became the coolest guy in the pool hall.
It's clear from going through Newman's filmography that his secret was taking simple, fitted pieces and building on them with one or two accents. For instance, in Cool Hand Luke, probably Newman's most iconic role, he models this idea to make a getup based on just denim look good.
That's right—Newman could even shine in the old Canadian Tuxedo. If Luke inspires any sartorial choices, it should teach that you can do a lot by using similar pieces, and even similar colors, as long as you use different enough tones. When he puts on a denim jacket, he wears a beige button-up; when he wears a denim button-up, he wears pants with cool racing stripes on them, along with a masculine necklace and a few buttons undone.
Of course, Newman didn't just perfect classic cool with his simple but flawless style. He also knew how to fill out a tuxedo. In an Instagram post a couple weeks ago honoring Newman's birthday, we shared one of our favorite pictures of him.
It captures everything that was special about his look—taking something that would look classic and clean on its own, and adding one or two personal touches to make it timeless. In this case, a neatly trimmed beard to add a rough-and-tumble accent, to remind everyone that his look is both classic and rugged.
Do you have any favorite Newman moments in fashion or film? Let us know in the comments below.
Leave a comment
Comments will be approved before showing up.