SILVERLAKE FARMER'S MARKET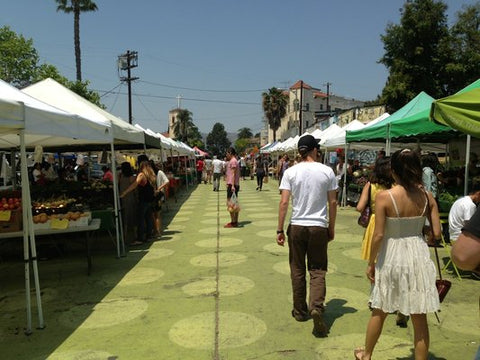 Our community seems to be meditating on the health of our planet as well as the quality of the food we put in to our bodies. This thought process about organic food and healthy lifestyles is more apparent in Los Angeles, specifically the Silverlake area, and more than most places in this entire country. We are #blessed to live in a community that has the perfect Farmer's Market twice weekly.
While the Silverlake Farmer's Market is on the smaller side of the other well-known markets in the city, this mellow market has all the essentials including fresh veggies, hummus and salsas, the fresh fish, fresh fruit, vegan baked goods, cashew cheese, healthy eats, and mouthwatering pupusas.
The Silverlake Farmer's Market also stands out from the rest in the city with it's vintage clothing vendor. There are exquisite vintage apparel finds that line 5-6 clothing racks every Tuesday and Saturday.In addition, there are a couple other vendors that sell unique goodies by local artisans.
For a quick breakfast or lunch make sure to try Gypsy Eats, they use the most incredible ingredients and choose their products so carefully when it comes to the farmer's who are supplying the goods. They will make sure to whip up something spectacular that will have you feeling good for the rest of the day.
You can check out this quaint farmer's market on Tuesdays from 2-7:30 PM and Saturdays from 8-1PM. The hours are really convenient and make it easy for you to purchase all the groceries you need for the week.
Laura ODells' Silverlake Farmer's Market Top Picks:
For Greek yogurt, Laura loves Ari's Foods. The flavors they create for the yogurts are out of this world and unlike any store bought yogurt! Also, try the jabanero goat cheese (it's out of this world!)
For fresh fish, Laura always gets the best of the best from fish vendor Smart Fish Co.
Here's Laura's go-to fish taco recipe for Summertime! 
Fish
1 lb Tilapia
Olive oil
Juice from 1.5 lemons
Chile powder
Cumin
Salt
Paprika
Slaw
1/3 Cabbage Sliced
1 Jalapeno
1 Clove garlic minced
Handful of fresh chopped cilantro
Salt
Spicy Mayo
1 Tbsp Mayo
1 Tsp Greek Yogurt
1 Tbsp Sriracha
Corn Tortillas, heated on the grill
Directions
 Place your fish in a ziplock bag.  Add your lime juice, olive oil, and spices.  Shake well until fish is fully covered and let sit for at least an hour.
 Prepare your slaw by adding all ingredients to a small serving bowl and tossing well.  Salt to taste.
 Prepare your guacamole by adding all ingredients to a small bowl and mixing well, using a fork to mash the avocado.  Salt to taste.
 Prepare your spicy mayo by mixing all ingredients in a small bowl and setting in the fridge until ready to serve.
 Heat grill to high.  Oil grill grates. Transfer fish to the grill and cook for about 3-4 minutes per side until cooked through.  Place tortillas on grill while cooking fish to warm.
 Serve fish in tortillas with a large scoop of slaw, dollop of guacamole and a dollop of spicy mayo.  Enjoy!
Leave a comment
Comments will be approved before showing up.