INTERVIEW WTIH ARTIST ANNA JOYCE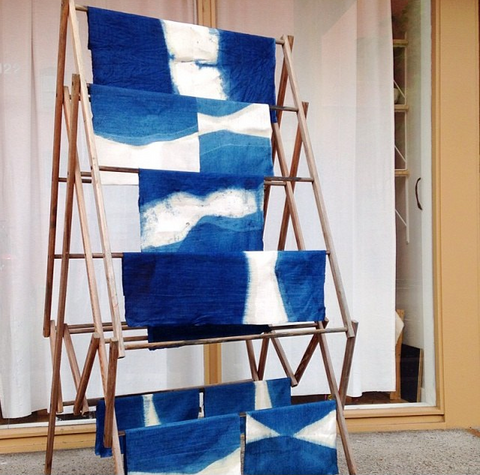 Our window display just got a massive makeover for the Summer season, created by Portland artist, Anna Joyce.  We have carried her handbags at the store for sometime which are beautiful handmade canvas and leather bags, with a minimalist approach to screen printing that makes the handbags unique, and more like a piece of art then just a purse. 
The wall hangings are beautiful and inspiring as they resemble mountains, oceans, and the sky all at once.  Not only are the hangings amazing, but Anna's instagram photos of her brilliant studio are inspiration enough to get your creative mind flowing!  I had to get more insight on this creative person!  Here's some questions I asked artist Anna Joyce with photos of her bright and beautiful studio wear she creates tons of goodies!
The wall hangings we have as our Summer window display
B&D: Can you tell us a little about yourself, where you are from, how you got started creating art?
AJ: My name is Anna Joyce and I am an artist living and working in Portland, Oregon. Both of my parents are and were artists, so I have been making art since I was a very small child.
B&D:  What came first handbags, apparel, jewelry or creating artwork for living spaces? 
AJ:  I have a fine art degree from CCA in printmaking and started sewing after graduation when I did not have access to a press. I have always been interested in fashion and textiles, so it was a natural progression. I started making by handbags and apparel. The textile collections and wall art are a little bit more recent, and the jewelry is very new! I really love trying new things and expanding my collections each season.
B&D:  What's your favorite piece of work that you have created so far?
AJ:  My favorite piece of work that I have created is my first book, Stamp Stencil Paint, which is coming out this fall. (September, Abrams New York) Creating the projects and writing the book was an amazing experience.  Stamp Stencil Paint, is a collection of hand printing and painting projects for wardrobe home and family. I am so excited for it to be published!
B&D:  In order to conjure up inspiration, what do you do outside of your work to keep your creative mind flowing with new ideas?
AJ:  I am very inspired by nature, simple shapes and the mark of the artist's hand. I am always inspired when I travel- especially to the beach.
B&D:  What are you working on at the moment?
AJ:  I am working on my fall 2015 collection. This new collection will feature hand painted wooden jewelry, indigo dyed wall hangings and quilts, some new textile designs for home and wardrobe. It has been really fun putting all of it together, and I am looking forward to the photo shoot in a few weeks.
B&D:  What do you think is the most important aspect of having a productive and inspiring work space or studio?
AJ:  I think the most important aspect of an productive work space is to be surrounded by things that inspire you. I just moved my studio from my home where it has been for the last five years into a space in the heart of Portland. I enjoyed working from home, but it was time for a change. My new space is very bright, with a lot of natural light, which is really important to my work since I use so much color. My studio is filled with things that I love. I enjoy going to work every single day.
B&D:  Do you have any favorite blogs you read?
AJ:  I wish that I had more time to read blogs! When I do have time I really enjoy Design*Sponge, Lisa Congdon's blog "Today is Going to be Awesome" and Frolic!
Let us know where else we can find you!
facebook Anna Joyce Design
Instagram @annajoycedesign
website www.annajoycedesign.com
Leave a comment
Comments will be approved before showing up.