A BOWL OF YUM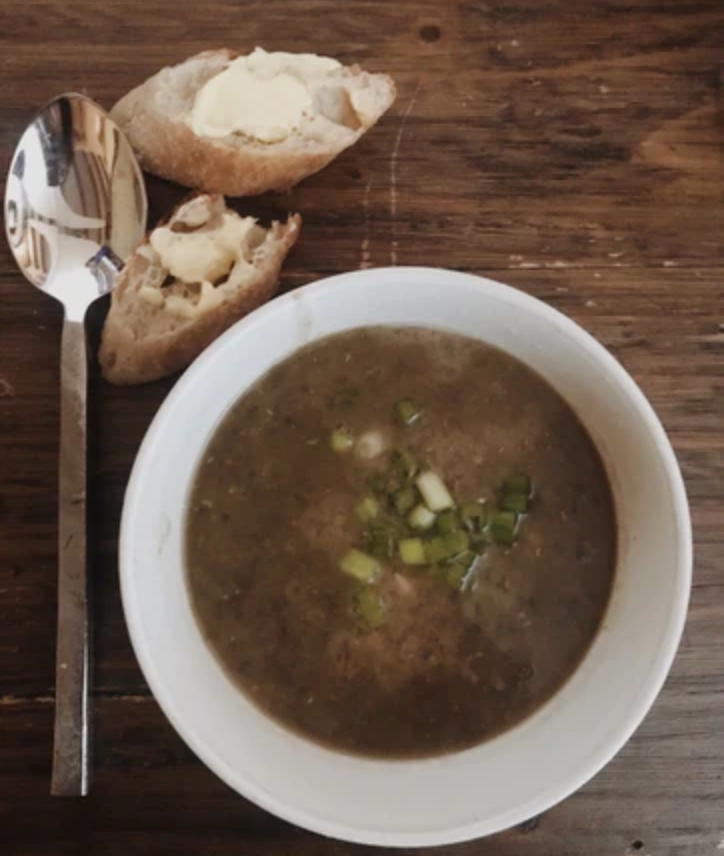 MY WEEK FELT ETERNALLY LONG. HOMESCHOOLING MY ELDEST AND MIDDLE CHILD WITH A RAMBUNCTIOUS TODDLER RUNNING AROUND IS NOT EASY AS MANY OF YOU KNOW; YOU ARE ALSO DOING IT YOURSELVES. JASON AND I ALSO HAD TO MAKE A LOT OF DECISIONS REGARDING THE BUSINESS SO WHEN SATURDAY ROLLED AROUND, I FELT EMOTIONALLY AND PHYSICALLY SPENT. I KNOW THIS IS JUST TEMPORARY THOUGH AND I'M ALREADY SEEING ALL THE SILVER LININGS. DEALING WITH THE PRECAUTIONS THAT WE ARE ALL DOING IN ORDER TO ISOLATE AND CREATE SOCIAL DISTANCE HAS SO MANY CHALLENGES, BUT EACH DAY I'M ALSO MET WITH SO MANY BLESSINGS. I'M GETTING THIS UNIQUE OPPORTUNITY TO LIVE EACH MOMENT WITH MY INTIMATE LITTLE FAMILY AND IT'S ACTUALLY BEEN QUITE WONDERFUL. WE'VE CREATED A NICE LITTLE ROUTINE AND I LOOK FORWARD TO REFINING IT THIS WEEK.  
WE'VE BEEN BAKING LOTS OF BREAD AND I'VE BEEN COOKING UP A STORM. I'VE ALSO BEEN MINDFUL NOT TO WASTE ANY FOOD. THIS WONDERFUL LENTIL SOUP I MADE WAS CREATED BY INGREDIENTS I HAD ON HAND IN MY PANTRY AND IN MY FRIDGE. IT WAS SO YUMMY ALONGSIDE JASON'S FRESH BAKED BAGUETTE.
LAURA'S LENTIL SOUP RECIPE:
1/2 WHITE ONION CHOPPED AND SAUTÉED IN OLIVE OIL.
2 TBS CURRY POWDER ADDED TO ONION.
8 CUPS LIQUID (I DID A MIXTURE OF 4 CUPS HOMEMADE CHICKEN STOCK AND 4 CUPS WATER)
BRING TO BOIL, THEN REDUCE AND SIMMER FOR ABOUT 2 HOURS.
ONCE THE LENTILS ARE SOFT, I TRANSFERRED HALF OF THE BATCH TO MY VITAMIX, BLENDED IT AND ADDED IT BACK TO THE POT OF CHUNKY LENTILS. GARNISH WITH A SQUEEZE OF LEMON, GREEN ONION AND FRESH CRACKED PEPPER. PAIRS EXCELLENT WITH A BUTTERED BAGUETTE. ENJOY!
Leave a comment
Comments will be approved before showing up.