A VERY ODELLS HOLIDAY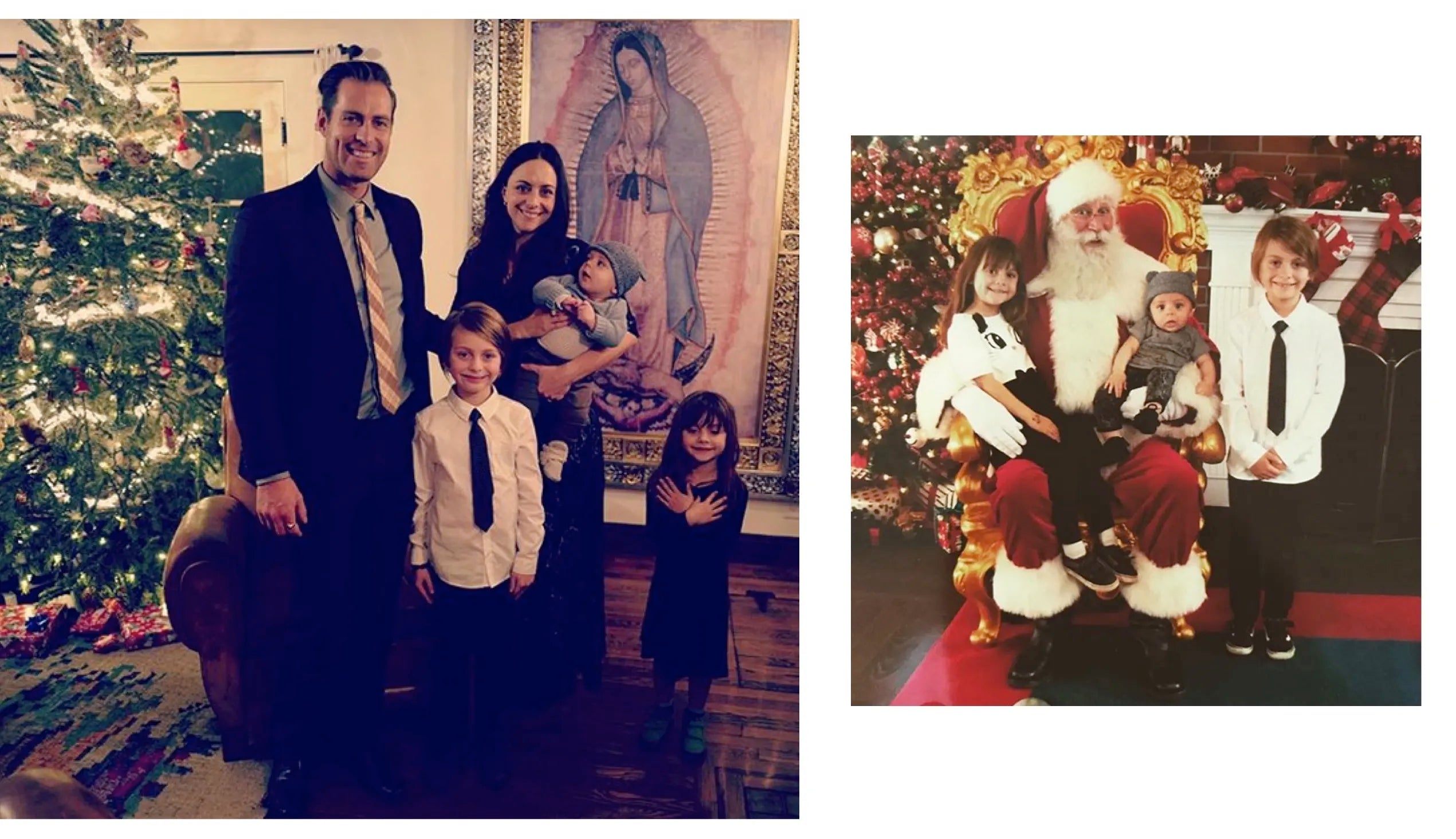 AS WE APPROACH THE HOLIDAYS WE HELD A LITTLE Q&A WITH LAURA ODELL TO SHARE A LITTLE ABOUT THE ODELL'S PAST HOLIDAY MEMORIES, WHAT HOLIDAYS WILL LOOK LIKE THIS YEAR AND TRADITIONS.
MY FAVORITE WAY TO KICK OFF THE HOLIDAY SEASON, IS CELEBRATING JASON'S BIRTHDAY ON DECEMBER 6, AN EASY EXCUSE TO GET THE PARTY STARTED. FOR THANKSGIVING THIS YEAR WE WILL BE TAKING A LITTLE TRIP TO INDIO TO CELEBRATE WITH MY AUNT. FOR CHRISTMAS WE WILL BE HOSTING CHRISTMAS EVE DINNER AT OUR HOME IN SILVERLAKE WITH FAMILY AND FRIENDS AND THEN OFF TO OUR CABIN IN BIG BEAR FOR THE KIDS HOLIDAY BREAK AND NEW YEARS.
WE LOVE GETTING READY FOR THE HOLIDAYS AND MOSTLY LOOKING FORWARD TO PUTTING UP THE CHRISTMAS TREE AND WATCHING JASON DECORATE THE HOUSE. ONE YEAR WE CUT DOWN OUR VERY OWN CHRISTMAS TREE AND REMEMBER IT AS ONE OF THE MOST FESTIVE THINGS WE'VE DONE FOR THE HOLIDAYS. WE ALWAYS POST UP A REAL TREE IN SILVERLAKE AND A SKINNY FAKE WHITE ONE IN BIG BEAR. UNTIL RECENTLY THE TREES WERE ALWAYS DECORATED WITH COLOR LIGHTS, BUT NOW THE TREES ARE ADORNED WITH WHITE LIGHTS AND A MIXTURE OF ORNAMENTS INCLUDING HEIRLOOMS FROM JASON'S CHILDHOOD, ONES THAT ARE HANDMADE BY OUR KIDS AND STORE BOUGHT ONES. CHRISTMAS LIGHTS BOTH INSIDE AND OUT ARE A MUST. WE LOVE LIGHTS!
HOLIDAY DINNERS AT OUR HOUSE ARE ALWAYS A SIT DOWN AFFAIR. MY FAVORITE DISH IS SCALLOPED POTATOES. JASON IS IN CHARGE OF CUTTING THE BIRD. YOU'LL FIND ME WITH A NICE DRY WHITE WINE IN HAND AND JASON WITH A WHITE RUSSIAN. MY FAVORITE DESSERT IS CANNOLI'S AND OUR GO TO HOLIDAY MUSIC IS THE SHE AND HIM CHRISTMAS ALBUM. I TRY TO HAVE MISTLETOE WHENEVER I CAN FIND IT AND MY FAVORITE TRADITION THAT WE'VE PASSED ON TO OUR KIDS IS HOMEMADE LASAGNA ON CHRISTMAS EVE.
FOR NEW YEARS, I STILL REMEMBER THE BEST PARTY WE EVER THREW...PRE KIDS. IT WAS AN EPIC PARTY WITH 200 PEOPLE OR SO. AT ONE POINT I WANTED TO CHANGE OUT OF MY DRESS INTO SOMETHING A LITTLE MORE COMFORTABLE. WHEN I REJOINED THE PARTY I WAS WEARING JEANS, A COLORED BUTTON DOWN AND PULLOVER VEST (A COMPLETELY DIFFERENT LOOK). MY BEST FRIEND ESPIE SAW ME AND THOUGHT I WAS A STRANGER THAT "LOOKED JUST LIKE LAURA". SHE KEPT TRYING TO FIND ME TO TELL ME THAT THERE WAS A GIRL AT THE PARTY THAT LOOKED JUST LIKE ME. WE LAUGHED SO HARD WHEN SHE REALIZED IT WAS ME ALL ALONG. IT WAS A STRONG TESTAMENT TO HOW MUCH CHAMPAGNE WAS FLOWING AND WHAT A GREAT PARTY IT WAS.
MY GOALS FOR THE UPCOMING NEW YEAR ARE: 1) PRACTICE MEDITATION 2) MORE YOGA 3) LESS SCREEN TIME 4) READ MORE BOOKS.
THANKS FOR READING! WISHING YOU ALL A HAPPY CELEBRATION FAR AND NEAR
Leave a comment
Comments will be approved before showing up.