HARMON'S STORY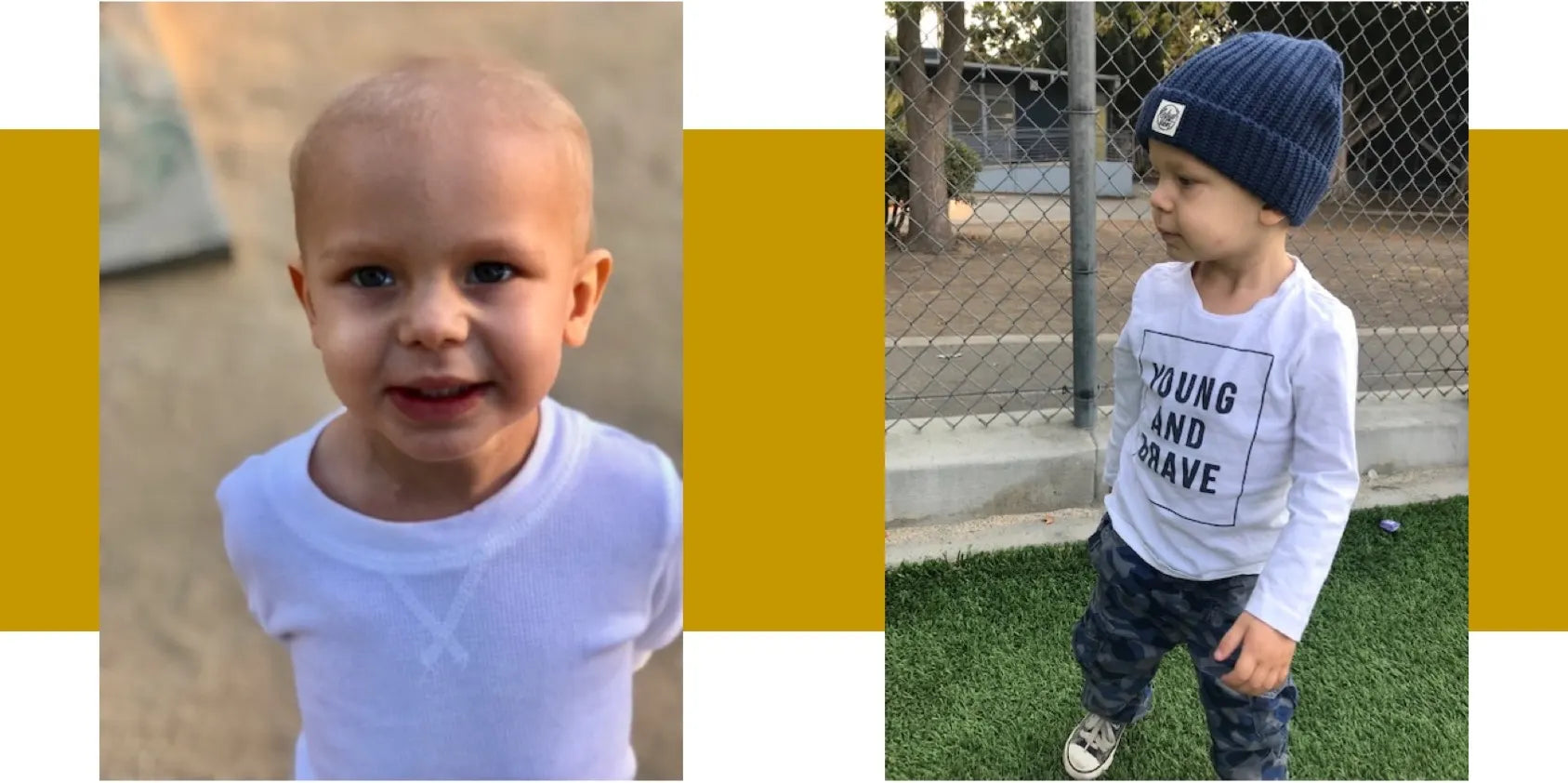 CHILDREN ARE OFTEN EQUATED WITH INNOCENCE SO IT'S NO WONDER WHY A CHILD DIAGNOSIS OF CANCER BRINGS FEELINGS OF COMPLETE DEVASTATION. MEET HARMON JONES, (AKA HARMY, NOW 3), AND HIS BIG BROTHER WINSTON, (AKA WIN/WINNIE, ALMOST 7), AND PARENTS SHAW AND HEATHER JONES, PERSONAL FRIENDS OF LAURA AND JASON ODELL. IF YOU ARE A LOCAL HERE IN SILVERLAKE, PERHAPS YOU KNOW THEM OR HAVE CROSSED PATHS ONCE OR TWICE BEFORE. OR MAYBE YOU DON'T KNOW THEM AT ALL, BUT CHANCES ARE YOU MAY KNOW SOMEONE LIKE THEM CONSIDERING CANCER SEEMS TO BE A COMMON DENOMINATOR ALL TOO OFTEN THESE DAYS.
IN HONOR OF SEPTEMBER BEING CHILDHOOD CANCER AWARENESS MONTH, WE DECIDED TO SHARE THE JONES' PERSONAL STORY BEHIND HARMY'S CANCER DIAGNOSIS THROUGH A Q&A GIVING A GLIMPSE INTO THE LIVES OF ONE FAMILY LIVING WITH CHILDHOOD CANCER.
HARMON JONES TURNED 2 YEARS OLD ON 6/8/18 AND WAS DIAGNOSED ON 8/8/18 WITH CHILDHOOD RHABDOMYOSARCOMA (A VERY RARE AND AGGRESSIVE CANCER) AND IS HAS BEEN FIGHTING THE BATTLE OVER THE PAST YEAR AND IS CONTINUING TO DO SO.
WHAT LED TO THE DIAGNOSIS? WERE THERE SYMPTOMS? WAS IT CAUGHT DURING A REGULAR CHECK UP?
HARMON BEGAN COMPLAINING OF NOT BEING ABLE TO BREATHE WHILE HE WAS NURSING ON ONE SIDE SO I TRIED CLEARING OUT HIS NOSE, WHICH HURT SO BADLY HE SCREAMED IN AGONY; AND IT FELT LIKE SOMETHING WAS BLOCKING THE PASSAGEWAY. SO I LOOKED UP WITH MY IPHONE LIGHT TO SEE THE LEFT NOSTRIL FULLY BLOCKED WITH SHINY PINK TISSUE WHICH WAS ODD BUT NO ALARM BELLS WENT OFF. WE SAW OUR PEDIATRICIAN WHO HAD SUGGESTED IT MIGHT BE A BEAD OR SOMETHING HE STUCK UP THERE, BUT WHEN HE SAW IT HE ADVISED US TO SEE AN EAR NOSE AND THROAT (ENT) SPECIALIST. I CONTACTED MY ENT WHO REFERRED ME TO AN EXCELLENT PEDIATRIC ENT- SO EXCELLENT IT TOOK FIVE WEEKS TO BE SEEN, WHICH I'VE SINCE LEARNED THAT TIME IS NOT YOUR FRIEND WITH RHABDO (RHABDOMYOSARCOMA), BECAUSE IT GROWS RAPIDLY EACH WEEK. SHE ORDERED AN MRI, WHICH WAS SET FOR THE END OF SEPTEMBER 2018, HOWEVER, I GOT A CALL A FEW DAYS LATER TO COME IN THE FOLLOWING TUESDAY FOR AN MRI. BY THE END OF THE DAY THEY ORDERED SURGERY FOR THE VERY NEXT DAY, WHICH FELT SO SUDDEN. I BEGAN TO PANIC AT THIS STAGE. I RECALL GOOGLING, "GROWTH IN TODDLER'S NOSE," AND SEEING RHABDOMYOSARCOMA. I MENTIONED IT AT THE FIRST ENT APPOINTMENT AND WAS TOLD NOT TO WORRY, THAT IT WAS EXCEEDINGLY RARE, LIKE ONE IN A MILLION.  WHEN EVERYTHING BUMPED UP SO RAPIDLY I STARTED WORRYING, BUT STILL NEVER EVER THOUGHT IT WOULD BE THAT.
DO YOU RECALL FIRST EMOTIONS/REACTIONS?
OUR SURGEON CALLED ME ON WEDNESDAY NIGHT, AUGUST 8TH, AND SOUNDED SO DISTRESSED AND NERVOUS TO TELL ME THE NEWS.   I SCRIBBLED NOTES ON THE COUCH, WHILE MY MOM WHO HAD FLOWN IN TO HELP FOR HIS SURGERY, WRANGLED MY BOYS. I WENT INTO THE BEDROOM AS TO HIDE AND NOT WORRY HER. THE SURGEON SAID SHE HAD ONLY EVER TAKEN OUT ONE OTHER RHABDO BECAUSE IT'S SO RARE, BUT THAT WHEN SHE SAW HARMY'S TUMOR SHE CONTACTED DR. NOAH FEDERMAN STRAIGHT AWAY, AS HE IS AN EXPERT IN TREATING IT. I WAS JUST SORT OF SHOCKED AND DIDN'T KNOW JUST HOW BAD THIS BAD NEWS WAS. I HAD HAD THYROID CANCER- 3 SURGERIES AND 2 RADIOACTIVE IODINE TREATMENTS MYSELF SO HONESTLY I DON'T HAVE THAT, "IT'S-A-DEATH-SENTENCE" REACTION TO CANCER.  I GET IN FIGHT MODE. BUT... DR. FEDERMAN CALLED ME NEXT, GAVE ME HIS CELL PHONE NUMBER RIGHT AWAY, WHICH I THOUGHT WAS GREAT BUT ODD, (DOCTORS DON'T USUALLY DO THIS I THOUGHT), AND BROKE DOWN WHAT OUR FUTURE WOULD LOOK LIKE, AND WHAT KIND OF FIGHT WE WERE IN FOR. I DUTIFULLY WROTE EVERYTHING DOWN.  HE ASKED IF I HAD A MEDICAL BACKGROUND BECAUSE I FULLY UNDERSTOOD THE TERMINOLOGY, BUT I SAID NO, JUST A SURVIVOR MYSELF.  AFTER I HUNG UP AND THEN SPOKE TO MY HUSBAND IT ALL STARTED TO SINK IN. SHAW LEFT WORK TO COME HOME AND IT WAS JUST A SLOW REALIZATION THAT WE WERE FACING HELL, AND A SERIOUS FIGHT, AND THE TEARS DIDN'T STOP.   WE MET DR. FEDERMAN THE NEXT DAY AND SAW THE PICTURES OF HIS TUMOR. IT WAS 1.67CM X 1.25 CM IN HIS LEFT NOSTRIL. WE WERE CALM BUT IN SHOCK. WE ASKED IF THIS SORT OF THING WARRANTED A SECOND OPINION AND DR. FEDERMAN WAS OPEN AND ENCOURAGING IF WE NEEDED THAT BUT DID CAUTION US NOT TO WAIT TOO LONG TO BEGIN TREATMENT AND ALSO THAT IN PEDIATRIC ONCOLOGY, THEY SHARE TREATMENT OPTIONS AND SOLUTIONS, MEANING THERE IS NO COMPETITION BETWEEN PROVIDERS. THEY JUST WANT TO HELP THE KIDS.  I REMEMBER THE NEXT FEW DAYS JUST TAKING A MILLION PICTURES OF HIM, OF HIM WITH WIN; I WANTED TO REMEMBER WHAT HE LOOKED LIKE BEFORE IT WOULD ALL CHANGE. AND I WAS TERRIFIED TO ADMIT OUT LOUD I WAS WORRIED HE'D BE GONE SOON SO I WANTED SO MANY PICTURES AND VIDEOS. PEOPLE CAME OVER THAT WEEKEND AND WE PLAYED WITH WATER BALLOONS, HAD DANCE MUSIC, AND JUST LAUGHED AND CRIED A TON BEFORE WE HAD TO GO IN TO START TREATMENT THAT MONDAY.
WHAT WAS HARMY'S COURSE OF TREATMENT GIVEN AND DURATION?
43 WEEKS FRONTLINE CHEMO AND 8 BRACHYTHERAPY RADIATION TREATMENTS.  FOR THAT ONE YEAR, HE WOULD DO CHEMO EVERY MONDAY AND THEN EVERY THIRD WEEK WE WOULD BE INPATIENT FOR EITHER VAC-VI OR FIVE DAYS OF IRINOTECAN.
IS THERE ANYTHING YOU CAN SHARE HOW THIS AFFECTED YOUR FAMILY'S LIFE THAT PEOPLE OTHERWISE MAY NOT REALIZE BECAUSE THEY HAVE NOT HAD EXPERIENCE WITH A CHILD RECEIVING SUCH A DIAGNOSIS?
IT'S VERY EMOTIONAL AND DIFFICULT TO PUT INTO WORDS WHAT THIS YEAR HAS BEEN LIKE FOR OUR FAMILY. FOR ONE THING,  IT IS NEVER OVER.  ESPECIALLY WITH HARMON'S TYPE OF CANCER,  IT IS SO AGGRESSIVE THAT WE JUST TRY TO LIVE OUR LIVES WITH JOY & GRATITUDE.  AND EVERY DAY THAT I GET TO BE HIS MOM IS A WONDERFUL DAY.  ONE HUGE ELEMENT THAT WAS SO UNEXPECTED WAS HOW HIS OLDER BROTHER WINSTON DEALT WITH HARMY'S DIAGNOSIS. HE REACTED AS IT WAS A HUGE CHILDHOOD TRAUMA FOR HIM. HE ACTED OUT AND WAS SO ANGRY AND SAD AND WORRIED.  WE HAD TO WORK WITH A THERAPIST SPECIFICALLY FOR HIM TO WORK OUT HIS EMOTIONS INVOLVING THE FEAR AND ANXIETY OF WHAT WAS GOING ON WITH HARMON.  THEY ARE EXTREMELY CLOSE SO IT HAS BEEN ESPECIALLY SCARY FOR WIN.  I HAVE FELT THE LOWEST DEPTHS OF SADNESS AND FEAR. I'M WORRIED ALL THE TIME.  I DO TRY TO ENJOY LIFE AND HAVE FUN NORMAL EXPERIENCES WITH OUR BOYS TOO. BUT THAT ANXIETY NEVER GOES AWAY.
PEOPLE OFTEN SAY CANCER CHANGES THEM, HOW DOES THIS RELATE TO A FAMILY WHO'S CHILD HAS BEEN DIAGNOSED?
WE RELISH TIME TOGETHER AND SHARE EXPERIENCES WITH THE FOUR OF US. I LOVE WHEN HARMY CAN DO SOMETHING SIMPLE AS GO SWIM AT A FRIEND'S POOL. BECAUSE HE'S IMMUNOSUPPRESSED HE IS NOT SUPPOSED TO SWIM AT PUBLIC POOLS. AND HE CAN ONLY SWIM WHEN HIS COUNTS ARE ABOVE A CERTAIN NUMBER SO THAT WAS PRETTY SPECIAL THIS SUMMER WHEN HE GOT TO SWIM A FEW TIMES.
PEOPLE WHO HAVE NOT EXPERIENCED CANCER THEMSELVES, OR WITH A FAMILY MEMBER INSIDE THEIR HOUSEHOLD, MAY NOT REALIZE HOW IT AFFECTS YOUR LIFE IN ALL ASPECTS. CAN YOU SHARE YOUR EXPERIENCE IN HOW IT DIRECTLY AFFECTED YOUR DAY-TO-DAY LIFE. IE: WORK SCHEDULES, SOCIAL LIFE, ETC?
WELL I DIDN'T AND COULDN'T GO BACK TO WORK. MY HUSBAND HAD TO QUIT THE JOB HE USED TO WORK ON MONDAYS SO HE COULD BE AVAILABLE TO HELP AT CHEMO OR HOME WITH WIN.  OUR INCOME DROPPED 60%.  I ALWAYS THOUGHT A GOFUNDME WOULD HELP WITH MEDICAL EXPENSES BUT WE ARE ON PAYMENT PLANS FOR THAT BECAUSE THE GOFUNDME REALLY REPLACED BOTH OF OUR INCOME LOSSES AND JUST KEPT US ALIVE FOR THE LAST YEAR.  NOW WE ARE BACK TO REALLY HUSTLING AND THINKING I MIGHT HAVE TO GO BACK TO WORK EVEN THOUGH I REALLY NEED TO BE PRESENT STILL TO CONTINUE CARING FOR HARMON WHO HAS MAINTENANCE CHEMO THROUGH THE END OF JANUARY. A FEW FRIENDS REALLY STEPPED UP TO HELP US WITH CHILDCARE ETC. WIN BASICALLY LIVES AT MY FRIEND MARY'S A LOT OF THE TIME, AND SHE'S BECOME A SECOND MOM TO HIM.  WE DON'T REALLY HAVE SOCIAL LIVES ANYMORE. I JUST FEEL MORE COMFORTABLE BEING WITH HARMON MOST OF THE TIME. WE HAVE STEPPED OUT FOR A COUPLE OF THINGS THIS YEAR BUT I FEEL SAFER BEING WITH HARMON, MONITORING HIM AND KNOWING THE SIGNS TO LOOK FOR IF OUR ONCOLOGIST NEEDS TO BE NOTIFIED IF HE'S FEELING ILL. HE ALSO HAS HAD AN INTENSE ALLERGIC REACTION TO HIS MAINTENANCE CHEMO ORAL DRUG CALLED CYCLOPHOSPHAMIDE WHERE HE BREAKS OUT ONCE OR TWICE A WEEK WITH GIANT RED ITCHY BUMPS SO I FEEL I REALLY NEED TO BE THE PERSON THAT'S DEALING WITH THAT RATHER THAN A SITTER. PLUS WE CAN'T REALLY AFFORD TO GO OUT THAT OFTEN SO IT'S GOOD I'M A HOMEBODY!  WE HAVE DANCE PARTIES IN THE LIVING ROOM WHICH ARE MUCH MORE FUN!!
I WOULD DEFINITELY SAY JUGGLING THE CHILDCARE HAS BEEN THE MOST CHALLENGING. I'M ALWAYS MAKING SURE WINSTON HAS PLAY DATES AND GETS TO DO A LOT OF STUFF STILL. WE CAN'T REALLY HAVE FRIENDS TO OUR HOUSE BECAUSE OF THE GERMS FACTOR AND HAVEN'T BEEN ABLE TO GO TO PLAYGROUNDS/ZOO/MUSEUMS ETC. AS OFTEN BECAUSE HARMY EITHER CAN'T OR HAS TO WEAR A MASK & I JUST GET NERVOUS ABOUT GERMS EXPOSURE. MY HUBBY HAS TO MISS MORE WORK TO ACCOMMODATE FOR HARMY'S TEST DAYS OR CHEMO DAYS.  THINGS YOU DON'T REALIZE WILL BE SO HELPFUL ARE GAS CARDS OR GROCERY STORE GIFT CARDS. I DRIVE AN HOUR EACH WAY TO THE HOSPITAL AT LEAST ONCE A WEEK AND OTHER TIMES DURING TREATMENT IT COULD'VE BEEN FIVE DAYS BACK AND FORTH.
I SOMETIMES FELT VERY ISOLATED, LIKE WHEN PEOPLE HAVE HELPED YOU ALREADY YOU CAN'T ASK, CAN YOU PICK UP MY CHILD FROM SCHOOL, OR TO MAKE A GROCERY RUN, OR PICK UP MEDS FROM THE PHARMACY ONE MORE TIME. IT'S VERY HARD TO ASK FOR HELP AND SOMETIMES I FEEL GUILTY ACCEPTING IT BECAUSE I KNOW I MIGHT NOT BE ABLE TO REPAY IT BY HELPING WITH THEIR CHILD FOR A WHILE OR RUNNING ERRANDS FOR THEM. AND THE FINANCIAL HELP HAS LITERALLY SAVED US AT TIMES BUT ALSO I FEEL EMBARRASSED TO HAVE HAD TO HAVE IT.
ONE THING I LEARNED IS WHEN SOMEONE ELSE IS BATTLING I JUST TAKE SOMETHING OVER BECAUSE IT FEELS OVERWHELMING TO NAME SOMETHING YOU NEED. WHEN PEOPLE ASK WHAT DO YOU NEED? YOU HONESTLY CAN'T THINK OF WHAT TO ASK FOR OR YOU FEEL GUILTY ASKING FOR A SPECIFIC THING. THAT'S WHY I'D JUST ADVISE GIVING A GAS OR GROCERY GIFT CARD, OR TAKING OVER SOME FRESH JUICE OR A MEAL. WE GET SO MANY TOYS AND HARMY OF COURSE LOVES THOSE TOO.  THE BEST GIFT WOULD BE MORE FUNDING TO GO TO PEDIATRIC CANCER RESEARCH TO GET THESE KIDS MORE THAN THE SAD 4% OF FUNDS THEY GET NOW.
WHAT ARE SOME RESOURCES YOU FOUND TO BE HELPFUL FOR YOUR FAMILY'S JOURNEY, IE: BOOKS, GROUPS, HOSPITALS, DRS, FRIENDS, ETC.
OUR ONCOLOGIST DR. NOAH FEDERMAN AND HIS TEAM ARE AMAZING. UCLA MATTEL'S CHILDREN'S HOSPITAL IS UNPARALLELED. WE ARE VERY HAPPY THERE. THE FELLOWES, NP, AND DOCTORS ARE AVAILABLE AT ALL TIMES FOR ANY ISSUES. NATASCHA WORKS AS A THERAPIST FOR FAMILIES THERE AND CONSULTS WITH US WHEN WE ARE STRUGGLING. HIS SOCIAL WORKER MARLA KNOLL HAS BEEN SO KIND AND INSTRUMENTAL IN HELPING US NAVIGATE THE EMOTIONAL ISSUES AS WELL AS ASSISTING FINDING DIFFERENT CHARITIES TO HELP US.  CHARITIES HAVE BEEN SO SUPPORTIVE!  HARMON'S 3RD BIRTHDAY WAS THROWN BY CREATE A SMILE (RADWA & TEAM WE'RE SO KIND, LOVING & FUN) AND HIS DREAM CAKE WAS DONATED BY ICING SMILES (BEAUTIFULLY BAKED BY DANIELLE ROTH.) LITTLE WISH FOUNDATION SENT US TO LEGOLAND WITH PASSES WE CAN USE THROUGH THE END OF THE YEAR WHICH WILL BE SO MUCH FUN! THE CHARITY MEGAN'S WINGS SENT US A $50 GAS CARD ONCE A MONTH FOR SIX MONTHS THAT REALLY HELPED. THE BUMBLEBEE FOUNDATION HAS HELPED US AND HEATHER THAT RUNS IT IS BEYOND KIND. I'M A MEMBER OF ATWATER VILLAGE MOMS ON FACEBOOK WHO RALLIED AT CHRISTMAS WITH TRADER JOE'S GIFT CARDS AND A SPA CERTIFICATE I'M STILL HOPING TO GET TO USE SOON. MY FRIEND LILY GAVE ME TWO PASSES TO TAKE WIN TO DISNEYLAND SOMETIME. THAT WAS IN RESPONSE TO WHEN I COULDN'T BE THERE FOR HIM AT A SCHOOL EVENT AND SHE GENEROUSLY SUGGESTED I COULD TAKE HIM TO DISNEY AS A SPECIAL DAY FOR THE TWO OF US SO HE'D FEEL IMPORTANT TOO.  SOME AWESOME MOMS FROM PRESCHOOL DONATED FOR US TO HAVE HOUSECLEANING MOST OF THE PAST YEAR COLLECTED BY LINDSEY SPRINGER. MY FRIEND MARY MORAN IS THERE FOR ME EVERY! SINGLE! DAY! SHE PICKS UP WIN SO OFTEN, HE STAYS AT HER HOUSE WHEN I'M IN THE HOSPITAL. SHE'S BEEN AMAZING. MY GIRLFRIENDS LISA FOX AND KRISTINA DUFF MANNED OUR GOFUNDME, WHICH WAS STARTED BY MY HUBBY'S SISTER TRICIA AND HER FINANCIAL WHIZ HUBBY NATHAN TURNER WHO GOT IT ALL GOING. SHAW'S BROTHER HALL PROMOTES IT TIRELESSLY. EVERY SINGLE PERSON WHO DONATED JUST BLOWS ME AWAY. IT'S SO HUMBLING AND WE JUST APPRECIATE IT SO MUCH. LISA IS GETTING ME GROCERIES AS WE SPEAK AND HEADED OVER HERE TO HELP ME FOLD LAUNDRY! SHE ALSO TREATED ME TO AN ORGANIZER TO HELP MAKE LIFE MORE ORDERLY. MY MOM ROMA COWAN AND SHAW'S MOM PATRICIA WALSH HAVE BEEN BEYOND SUPPORTIVE. THEY ARE THE BEST MOMS!! MY MOM IS ABLE TO TRAVEL HERE FREQUENTLY FROM TN TO HELP, WHICH IS SUCH A BLESSING. MY SISTER GABI CAME TO STAY A WEEK TO HELP IN MARCH. MY FRIEND CAROLYN SIMS GETS ME TO GO HIKE ONCE OR TWICE A WEEK AND SHE PUSHES HARMY IN THE STROLLER BECAUSE I'M SO OUT OF SHAPE FROM HOSPITAL LIFE. WHEN YOU CALL IT "CAREGIVER WEIGHT GAIN," IT SEEMS MORE ACCEPTABLE IN THE MIRROR. HA! THE BOYS' GODFATHER, PAGE, HAS BEEN HELPFUL KEEPING THE BOYS FOR ME. ANDRE HOTCHKO HAS GENEROUSLY TAKEN WIN & SHAW TO SIX FLAGS A FEW TIMES. SHAW'S RESTAURANT BOA WEST HOLLYWOOD HAS BEEN INCREDIBLY SUPPORTIVE AND ACCOMMODATING WITH HIS SCHEDULE TO ALLOW HIM TO BE THERE WITH US WHEN HE NEEDS TO BE. I USED TO NEVER LET HIM TAKE OFF WORK, BUT THERE ARE TIMES I MUST HAVE HIS HELP OR HE REALLY WANTS TO BE THERE FOR HARMY.
WE HAVE HAD SO MUCH KINDNESS AND EMOTIONAL SUPPORT EVEN FROM FAR AWAY. WE GET SWEET CARE PACKAGES FROM FRIENDS. MY FRIEND KIM JETTE HAS THE CUTEST DAUGHTER AUDREY WHO SENDS HARMY COLORFUL DRAWINGS AND INSPIRATIONAL NOTES. KIM IS A SORORITY SISTER FROM WAKE FOREST AND SHE AND MY FRIEND JEN RAPPENECKER ORGANIZED A BUNCH OF STRINGS SOCIETY SISTERS TO SEND US AMAZON GIFT CARDS TO MAKE CHRISTMAS SPECIAL FOR THE KIDS.   JEN STAYS IN THE HOSPITAL WITH ME ON LAYOVERS FROM MAUI WHERE SHE LIVES. ANOTHER SISTER HILLARY THEAKSTON AND HER WIFE CARIN HAVE HOSTED US IN SAN DIEGO SO HARMY CAN GET SOME POOL TIME AND CHILL OUT IN THEIR GORGEOUS HOME WITH THEIR SWEET GIRLS PIPER & ELLA.
SO MANY OF WIN'S FRIEND'S PARENTS OFFER TO PICK HIM UP OR HAVE HIM OVER INCLUDING THE LOVELY LAURA & JASON O'DELL! JASON BRAVED DRIVING WIN TO SOCCER LAST FALL WHEN IT WAS QUITE A CHALLENGE AND HE WAS SO PATIENT AND KIND. THEY ARE TRULY WONDERFUL LOVING PEOPLE. WINNIE LOVES LAYLA THEIR DAUGHTER SO SO MUCH AND HE'S DELIGHTED TO GET TO BE HER TABLE MATE IN THEIR 1ST GRADE CLASS!
LASTLYOUR THERAPIST J HAS BEEN BEYOND INSTRUMENTAL IN KEEPING US, AND THESE HUGE EMOTIONS, MANAGED ALL YEAR. YOU'VE GOT TO HAVE THAT TO SURVIVE THIS. SHE'S HELPED IMMEASURABLY AND IS GOLD TO US.
THE BIGGEST THING WE ALWAYS NEED IS TO STAY QUALIFIED FOR OUR SAG-AFTRA HEALTH INSURANCE. OUR COMMUNITY REALLY RALLIED THIS SPRING TO HELP SHAW GET AUDITIONS TO KEEP OUR CONTINUED COVERAGE. I KNOW HE'S A GREAT ACTOR OR THEY WOULDN'T JUST GIVE HIM JOBS. HE WORKED VERY HARD TO EARN WHAT HE NEEDED TO KEEP THE INSURANCE FOR HIS FAMILY AND WE ARE FOREVER GRATEFUL TO ATB, HIS MANAGER DEBBIE AT CORNERSTONE, AND ALL THE AMAZING BEAUTIFUL CONTACTS WHO HAVE HELPED US ON THAT JOURNEY. THAT'S A CONSTANT WORRY OF MINE BUT HE HAS UNTIL MARCH 31ST AS OUR QUALIFYING PERIOD SO WE ARE HOPING HE BOOKS MORE WORK THIS FALL. YOU HAVE TO EARN A CERTAIN AMOUNT THROUGH SAG WORK TO QUALIFY FOR PLAN I OR PLAN II. WE HAVE PLAN II AND IT'S GREAT COVERAGE SO WE HOPE EACH YEAR ESPECIALLY FOR HARMY'S SAKE TO BE ABLE TO KEEP IT, SO HIS CARE IS CONTINUOUS.
IT'S SO FUNNY THAT SOME ACTORS DREAM OF "MAKING IT" FOR FAME AND MONEY. WE JUST WANT HEALTH INSURANCE!!  LITERALLY!
WHERE IS HARMY AT IN HIS TREATMENT NOW?
NEXT MONDAY SEPTEMBER 18TH WILL MARK WEEK #57 OF CHEMOTHERAPY TREATMENTS FOR HARMY.   EVERY WEEK HE MISSES A TREATMENT DUE TO LOW COUNT THEY JUST TACK ON AT THE END SO AS OF NOW I BELIEVE WE WILL BE FINISHING HIS MAINTENANCE CHEMO AT THE END OF JANUARY BUT THAT COULD ALWAYS RUN INTO FEBRUARY OR MARCH OF NEXT YEAR DEPENDING ON HOW MANY TREATMENTS HE MISSES. HE MISSES TREATMENT IF HIS COUNTS ARE BELOW 750. THAT NUMBER IS CALLED HIS ANC OR ABSOLUTE NEUTROPHIL COUNT. NEUTROPHILS ARE WHAT FIGHTS OFF BACTERIA IN OUR BODIES SO IF HIS COUNTS ARE TOO LOW FROM TOXICITY FROM THE CHEMO, THEY DON'T WANT TO PUSH HIM FURTHER DOWN. IT'S A STRANGE CONCEPT ISN'T IT? THEY ARE GIVING HIM DRUGS TO KNOCK HIS IMMUNE SYSTEM OUT BUT THEY WON'T CONTINUE GIVING THE CHEMO WHEN HIS SYSTEM IS TOTALLY OUT. THEY LET IT CLIMB BACK UP AND THEN KNOCK IT OUT AGAIN. IT'S ALL FOR THE GREATER GOOD SO WE JUST GO WITH THE FLOW AND JUST WANT TO KILL EVERY SINGLE MICROSCOPIC CELL OF THAT BEAST RHABDO.
WE WERE PLANNING ON GOING TO FAMILY CAMP THIS WEEKEND AT CAMP RONALD MCDONALD FOR GOOD TIMES BUT SADLY WE HAVE TO DELAY OUR CAMP EXPERIENCE UNTIL APRIL. DR FEDERMAN WOULD NOT SIGN OFF ON HARMY GOING BECAUSE OF HIS WALKING PNEUMONIA HOSPITALIZATION LAST WEEK. HE'S WORRIED HE WOULD GET SICK AGAIN.   HEALTH COMES FIRST. SO... WE ARE SAD AND DISAPPOINTED BUT HOPEFUL SINCE HE'S ALL DONE WITH THERAPY BY FEBRUARY THAT A TRIP IN APRIL WILL BE BETTER FOR ALL.
ONE THING TO ADD IS ABOUT HIS SCANS COMING BACK NEGATIVE...
I AM ON A REAL HIGH ABOUT THAT.   IT FEELS LIKE THEY TOLD ME HE IS CURED BUT THE TEAM CAUTIONED ME TO REMAIN OPTIMISTIC BUT NOT THINK IN ABSOLUTES.   HE WILL CONTINUE TO BE TESTED WITH MRI EVERY THREE MONTHS AND MONITORED WEEKLY FOR LABS. RHABDO HAS A HIGH RATE OF RELAPSE (ABOUT A THIRD) AND OF THOSE WHO DO RELAPSE THE AVERAGE SURVIVAL IS 9 MONTHS. I KNOW THIS BUT CHOOSE TO GO HEADLONG INTO LIFE EVERY DAY IGNORING THAT!
I WAS TOLD BY A WISE FRIEND ONCE TO "BREATHE LIFE" INTO HARMY EACH DAY BY DISCUSSING HIS FUTURE, SO I DO. I TELL HIM HE WILL BE BACK IN SCHOOL, MAKING FRIENDS, PLAYING SOCCER AND T-BALL, AND LIVING HIS BEST LIFE EVERY DAY.MY FRIEND BETH WILLIAMS CAME OVER A COUPLE MONTHS AGO AND CLEARED OUT ALL THE DEAD PLANTS ON MY PORCH, PLANTING BIG BRIGHT FLOWERS SHE INSTRUCTED WIN TO WATER DAILY. SHE SAID SHE WANTED TO SURROUND OUR ENTRYWAY WITH LIFE NOT DEATH. I LOVE THAT.I CAN'T GUARANTEE I MAKE THE WATERING HAPPEN EVERY DAY BUT I'VE KEPT THOSE SUCKERS ALIVE SO FAR. HA HA!! I KEEP ALL THESE LIVING THINGS ALIVE IN THIS HOUSE!!
Leave a comment
Comments will be approved before showing up.