THE ODELLS SPOTLIGHT: SARA TOUFALI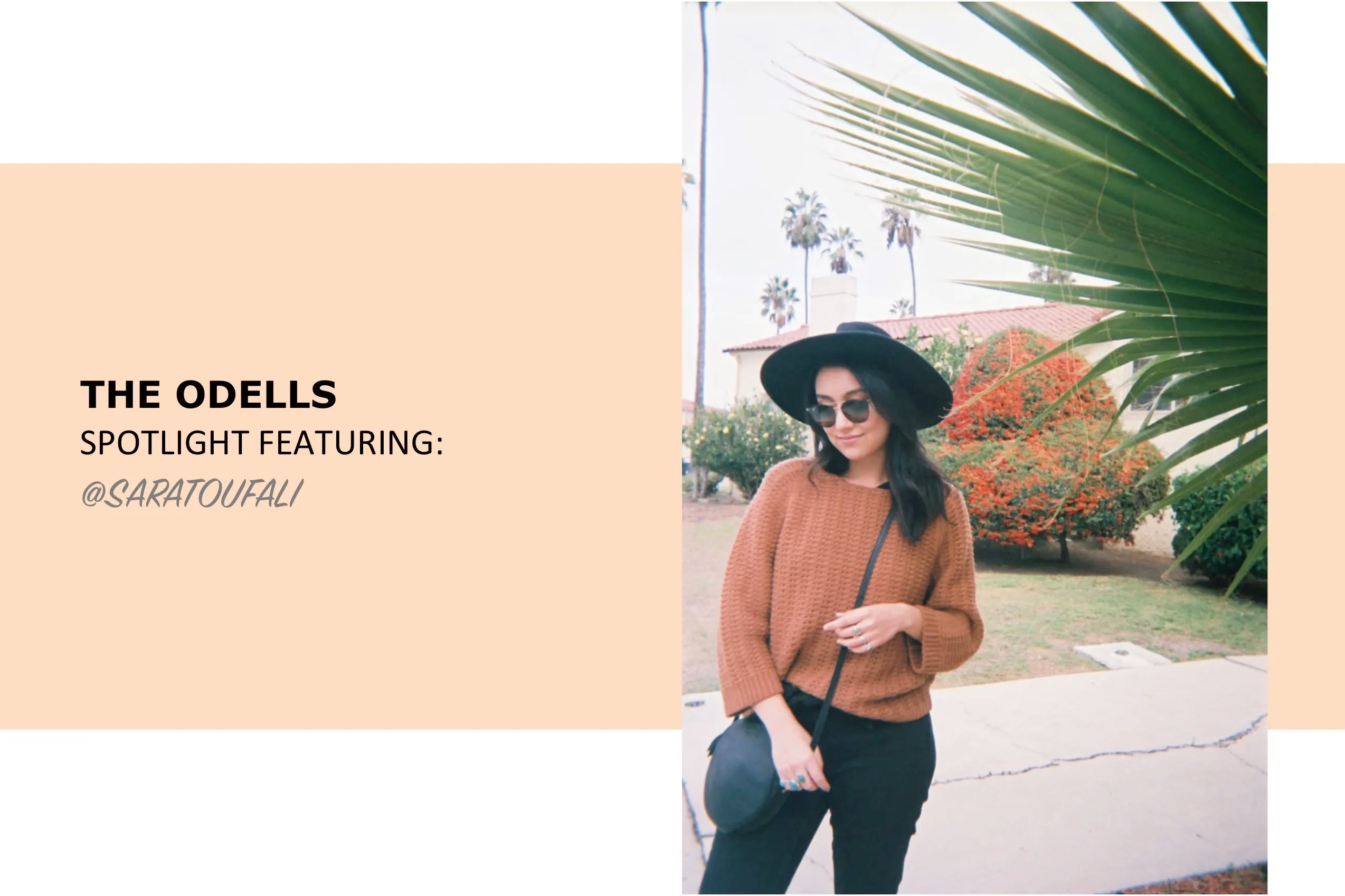 GET TO KNOW THIS LOVER OF BOTANICAL AND BOHEMIAN INTERIORS AS SHE SHARES HER HOLIDAY PLANS, FALLING INTO THE INFLUENCER WORLD AND ENJOY A FEW SNAPS WE ASKED SARA TO TAKE WITH A THROW AWAY CAMERA.
WHAT ARE YOUR PLANS FOR THE HOLIDAYS? MY BIRTHDAY IS CHRISTMAS EVE SO MY PARTNER EDDIE AND I ARE GOING ON A LIL GETAWAY TO SAN DIEGO COUNTY FOR A FEW NIGHTS. I FOUND THIS GORG GLAMPING ECO-TENT PROPERTY ON AIRBNB AND IT LOOKS SUPER DREAMY! WE WILL BE BACK HOME BY CHRISTMAS AND PLAN ON SPENDING IT WITH EDDIES FAMILY SINCE MOST OF MINE LIVES IN NY.
WHAT INSPIRED YOU TO MOVE WEST? THE FIRST TIME I VISITED CALIFORNIA I WAS 9 YEARS OLD AND FELL IN LOVE INSTANTLY. THE BEACHES, PALM TREES, WARM WEATHER, LAID BACK VIBE AND WAY OF LIFE - IT WAS ALL SO DIFFERENT FROM MY HOMETOWN IN NEW YORK, BUT I INSTANTLY FELT RIGHT AT HOME HERE. THAT FIRST VISIT I DECIDED THIS WAS WHERE I WANTED TO LIVE. MY SENIOR YEAR OF HIGH SCHOOL APPLIED ONLY TO CALIFORNIA COLLEGES, AND ENDED UP ATTENDING CHAPMAN UNIVERSITY IN ORANGE COUNTY. AFTER GRADUATION I MOVED TO LOS ANGELES, AND I JUST CELEBRATED A DECADE LIVING IN CALIFORNIA THIS PAST SUMMER.
DID YOU SET OUT TO BE A BLOGGER/INFLUENCER OR DID YOU JUST FALL INTO IT? I FELL INTO IT! I HAD BEEN SHARING PHOTOS OF MY OLD APARTMENT ON INSTAGRAM AND SOME REALLY BIG ACCOUNTS STARTED TO REPOST THEM ON THEIR FEEDS - ALL OF A SUDDEN I STARTED GETTING HUNDREDS OF FOLLOWERS OVERNIGHT. I RECEIVED SUCH A NICE RESPONSE FROM PEOPLE AND WAS HAVING SO MUCH FUN THAT I DECIDED TO START A BLOG, MOSTLY AS JUST A LITTLE CREATIVE OUTLET FOR ME AND A WAY TO GET ALL MY PHOTOS OFF THE COMPUTER AND OUT INTO THE UNIVERSE. SINCE THEN IT'S GROWN INTO SUCH A WONDERFUL COMMUNITY OF FELLOW PLANT LOVERS AND HOME DECOR ENTHUSIASTS. I'M VERY HUMBLED BY IT!
WHERE DID YOUR LOVE FOR BOTANICALS AND BOHEMIAN INTERIORS COME FROM? I'VE BEEN SURROUNDED BY PLANT-LOVING WOMEN MY WHOLE LIFE, SO THAT HAS DEFINITELY RUBBED OFF ON ME. ONE OF MY MOM'S PASSIONS IS WORKING IN HER GARDENS AND SHE ALWAYS HAD A LOT OF PLANTS IN OUR HOUSE GROWING UP. SAME WITH MY GRANDMOTHER - SHE WAS ALWAYS SO PROUD TO SHOW US NEW BLOOMS IN HER GARDENS WHENEVER WE VISITED. I THINK OF HER AS THE ULTIMATE BOHEMIAN. SHE WAS A PAINTER AND HER HOME WITH MY GRANDPA WAS FILLED WITH TREASURES. LOTS OF VINTAGE, HANDMADE ITEMS AND KEEPSAKES FROM HER TRAVELS AROUND THE WORLD. SHE LOVED TO TRAVEL!
FUN FACTS: WHAT IS YOUR FAVORITE PART OF THE HOLIDAYS? THAT COZY CHEERFUL FEELING. CHRISTMAS MUSIC, WARM SWEATERS, GIFT-GIVING, CHRISTMAS TREE LIT-UP AT NIGHT - IT JUST ALL MAKES ME HAPPY! ANY FAVORITE TRADITIONS? CUDDLING UP UNDER A COZY BLANKET WATCHING CHRISTMAS MOVIES. ANY MOTTOS YOU LIVE BY? "KEEP SMILIN', BE HAPPY" - A SONG BY DORIS DAY. IT ALWAYS PUTS ME IN A GOOD MOOD. IT REMINDS ME TO GET OUT OF MY HEAD AND STOP SWEATING THE SMALL STUFF - TO RELAX AND ENJOY LIFE. FAVORITE SPOTS IN LA? SOUTH COAST BOTANICAL GARDEN FOR YOUR PLANTY NATURE FIX, ABBOT KINNEY BOULEVARD FOR FAB SHOPPING, THE VENICE CANALS FOR A BEAUTIFUL STROLL, DOWNTOWN CULVER CITY FOR ALL THE YUMMY RESTAURANTS. COFFEE OR TEA? COFFEE LA OR NY? LA WARM OR COLD CLIMATE? WARM
FAVORITE DESTINATION TO TRAVEL TO? I STUDIED ABROAD IN FLORENCE WHEN I WAS IN COLLEGE, SO ITALY WILL ALWAYS HAVE A SPECIAL PLACE IN MY HEART. SUCH A BEAUTIFUL COUNTRY AND THE YUMMIEST FOOD! CAPRI WAS ONE OF MY FAVORITE CITIES I VISITED WHILE I WAS THERE - SO MAGICAL. FAVORITE HOTEL YOU'VE EVER STAYED IN? I USUALLY STAY IN AIRBNBS WHEN I TRAVEL, BUT LAST YEAR I STAYED AT THE BORREGO VALLEY INN AND IT WAS A DREAM. NATIVE DESERT GARDENS, A GORGEOUS COURTYARD, BEAUTIFUL VIEWS AND OUR OWN PRIVATE PATIO - YES PLEASE! FAVORITE FOOD? ICE CREAM FAVORITE SONG / ARTIST / ALBUM? AH SO HARD TO CHOOSE FAVES!!! I'LL GO WITH "FOXES MATE FOR LIFE" BY BORN RUFFIANS OFF THEIR RED, YELLOW AND BLUE ALBUM - SUCH A GEM. FAVORITE HOLIDAY / PLAYLIST / STATION? THE CHRISTMAS CLASSICS PLAYLIST ON SPOTIFY!
TELL US A LITTLE BIT ABOUT YOUR NEW HOUSE AND DESIGN AESTHETIC: EDDIE AND I ARE BOTH EARTH SIGNS (CAPRICORN/TAURUS) AND WE'RE VERY ATTRACTED TO EARTHY, NATURAL DECOR. PICES MADE FROM WOOD, WICKER, RATTAN, BAMBOO AMD JUTE ARE ALL MATERIALS WE LIKE TO STYLE OUR HOME WITH. AND OF COURSE, LOT'S OF PLANTS! WE'VE BEEN IN OUR NEW HOUSE FOR ABOUT 10 MONTHS NOW AND WE'RE HAVING LOTS OF FUN, TAKING TIME DECORATING AS WELL AS HOSTING PARTIES WITH OUR FRIENDS. WE JUST HAD OUR ANNUAL FRIENDSGIVING LAST MONTH AND I SET UP A FLOOR DINING TABLE IN OUR LIVING ROOM AND IT WAS REALLY OUR ONLY OPTION FOR A DINNER PARTY. EVEN THOUGH WE HAVE A DINING ROOM NOW, I STILL MADE US SIT ON THE FLOOR THIS YEAR. IT'S SUCH A FUN CHANGE FROM REGULAR SEATED DINING!
Leave a comment
Comments will be approved before showing up.