VIVE L'AMOUR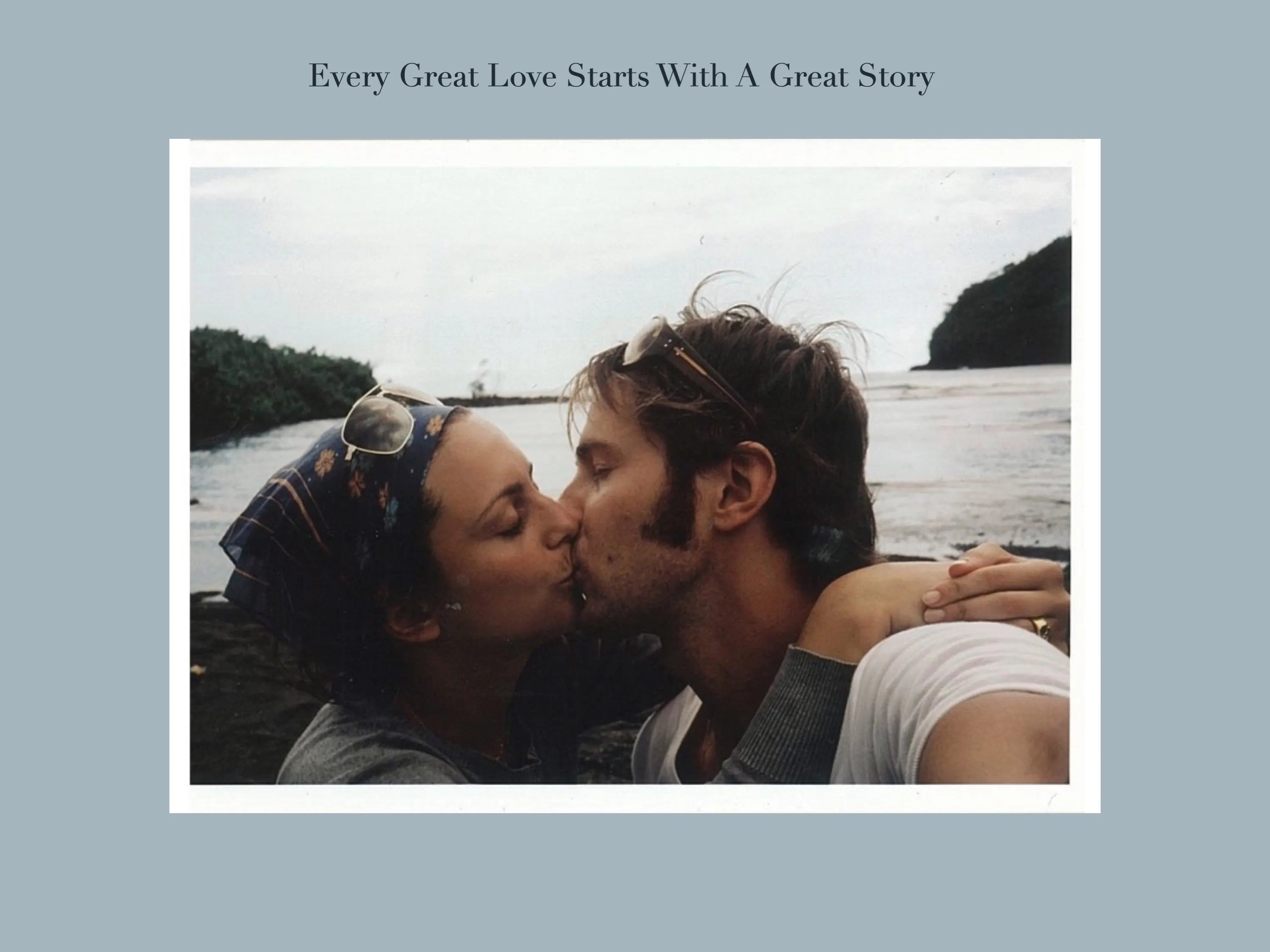 NOT ALL FAIRY TALES ARE WRITTEN THE SAME WAY AND THE STORY OF HOW JASON AND I MET WENT SOMETHING LIKE THIS…..
IT WAS NOVEMBER 15TH 2001. I WAS LIVING IN KOREA TOWN AT THE TIME WITH MY ROOMMATE SARAH. IT WAS A PERFECT AUTUMN EVENING IN LA. I HAD JUST FINISHED MY EVENING BARTENDING CLASS (YES, I WAS GOING TO BARTENDING SCHOOL) AND MY FRIEND AMANDA AND I WENT BACK TO MY PLACE TO MAKE SOME DINNER. SARAH HAD INVITED US TO JOIN HER OVER AT THE KIBITZ ROOM ON FAIRFAX. A CO-WORKER OF HERS WAS IN A BAND AND SHE WANTED US TO COME SEE THEM PLAY. I WAS TIRED AND IT WAS GETTING LATE BUT AMANDA AND I RALLIED TO GO OUT. WE GOT READY AND HEADED OUT THE DOOR.  
I REMEMBER WALKING INTO THE DIMLY LIT KIBITZ ROOM AND INSTANTLY FOUND SARAH AND A GROUP OF GIRL FRIENDS SITTING AT A ROUND TABLE BY THE ENTRANCE. JASON WAS AMONGST THEM AS THE ONLY DUDE AT THE TABLE. HE WAS THERE THAT NIGHT BECAUSE HIS FRIENDS GIRLFRIEND HAPPENED TO BE SARAHS CO-WORKER WHO WAS IN THE BAND WE WERE GOING TO SEE PERFORM. HE HAD BEEN ON A SKATEBOARD TOUR WITH THAT SAME FRIEND AND THEY HAD JUST RETURNED TO LA THE NIGHT BEFORE.  
I QUICKLY TOOK NOTICE OF HIS BOYISH CHARM AND NOTICEABLE GOOD LOOKS. HE WAS WEARING ONE OF THOSE HATS THAT HUNTERS WEAR WITH THE EAR FLAPS ATTACHED SO I COULD ALREADY TELL HE HAD A UNIQUE STYLE THAT WAS ALL HIS OWN.  
AS THE EVENING PROGRESSED AT SOME POINT I FOUND MYSELF SITTING NEXT TO HIM WHILE A BUNCH OF THE GIRLS AT THE TABLE STARTED CHATTING. I COULD TELL THAT HE WASN'T VERY INTERESTED IN THE CONVERSATION AND NOR WAS I. AFTER THE BAND WAS DONE PLAYING WE ALL DECIDED TO LEAVE THE KIBITZ ROOM IN SEARCH OF SOME DANCING SO WE WENT TO ROOT DOWN ON MELROSE WHICH WAS A POPULAR HIP HOP CLUB THAT HAPPENED EVERY THURSDAY NIGHT. WE WERE ALL HAVING A GREAT TIME AND OUR TWO GROUPS WERE MINGLING WELL TOGETHER. JASON AND I LOCKED EYES A FEW TIMES THAT NIGHT AND AT ONE POINT A MUTUAL FRIEND CAME UP TO ME AND SAID "MY FRIEND JASON WANTS TO COME OVER AND TALK TO YOU.". I SAID, "WELL THEN HAVE HIM COME OVER".
JASON CAME OVER, EXTENDED HIS HAND TOWARDS MINE TO TAKE IT AND SAID "ARE YOU HAVING A GOOD TIME TONIGHT?" I'LL NEVER FORGET THAT BECAUSE HE WAS SO CORDIAL AND POLITE. WE ENDED UP DANCING TOGETHER AND AT ONE POINT MY FRIEND SARAH NOTICED OUR CONNECTION AND INVITED JASON TO COME OVER ON SATURDAY FOR A FRIENDS THANKSGIVING PARTY THAT WE WERE GOING TO THROW. SHE EXCHANGED PHONE NUMBERS WITH HIM. ON THAT SATURDAY MORNING AS SARAH AND I WERE CLEANING THE HOUSE GETTING READY FOR THE PARTY JASON CALLED OUR LAND LINE TO TALK TO ME. I GAVE HIM OUR ADDRESS AND WAS SO EXCITED TO HEAR THAT HE WAS GOING TO SHOW UP. HE ENDED UP COMING THAT NIGHT BY HIMSELF BECAUSE HIS OTHER FRIENDS BAILED ON HIM. I TOLD HIM TO BRING MASHED POTATOES AND HE SHOWED UP WITH A BOX OF INSTANT ONES. IT WAS A GREAT NIGHT, ONE THAT I'LL NEVER EVER FORGET. NEEDLESS TO SAY, HE WAS THE VERY LAST PERSON TO LEAVE THE PARTY AND THE REST IS HISTORY.
WE'VE BEEN TOGETHER EVER SINCE. NOVEMBER OF 2020 WILL MARK OUR 19 YEAR ANNIVERSARY OF HAVING MET. EACH DAY WITH HIM STILL FEELS LIKE THE FIRST. I KNOW THAT SOUNDS ROMANTIC AND CLICHE BUT IT REALLY IS THE TRUTH. I LOOK BACK AND HOW YOUNG WE BOTH WERE AND HOW MUCH OUR LIVES HAVE EVOLVED. I'M SO GRATEFUL FOR THAT FATEFUL NOVEMBER NIGHT IN HOLLYWOOD AND WILL FOREVER KEEP THE MEMORY ETCHED BEAUTIFULLY ON MY HEART.  WISHING YOU ALL A HAPPY VALENTINE WEEK! LOVE, LAURA
CHECK OUT MORE OF LAURA'S FAVORITE VALENTINE PICKS BELOW. AVAILABLE IN-STORE AND ONLINE.
Leave a comment
Comments will be approved before showing up.